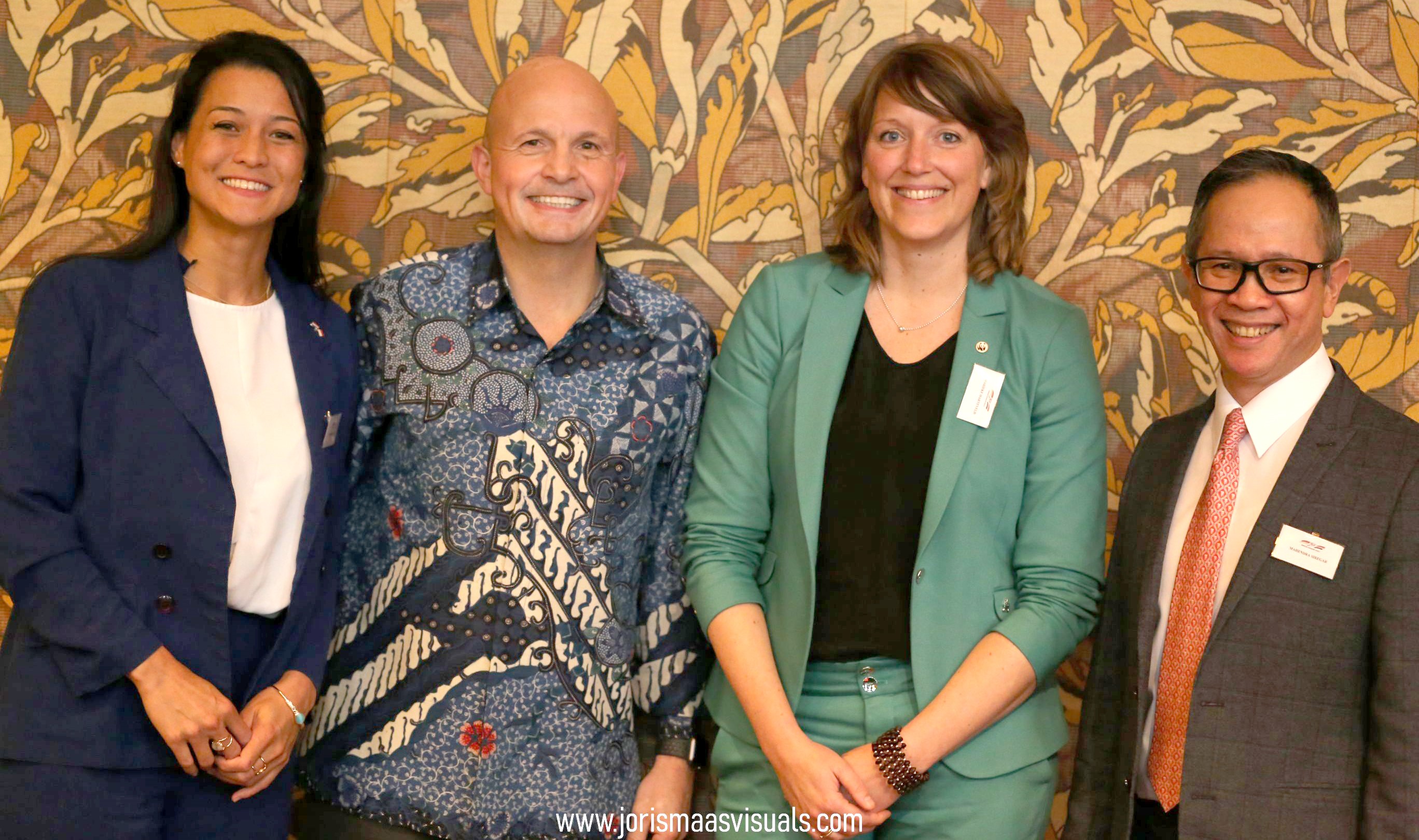 07 Feb 2020
'A broader perspective on Palm Oil' was the subject of the INS Round Table Meeting 2019, aiming at a discussion on a politically polarized item in the context of sustainable development. The speakers represented Indonesia, the private sector, a climate ngo and a scientific research institute.
Mrs. Ankie-Broekers-Knol, chair of the Senate and host to the meeting, warmly welcomed HE I Gusti Agung Wesaka Puja, Indonesia Ambassador to the Netherlands, and the ninety participants of the meeting. Dr. Willem van Eekelen (INS Board of Trustees) facilitated the discussion and introduced the speakers.
HE Mr. Mahendra Siregar, Executive Director – Council of Palm Oil Producing Countries, Ambassador of Indonesia to the USA
Mr. Peter ter Kulve, former President South East Asia Unilever, Member of the Board
Mrs. Marieke Harteveld, Chief Conservation Officer – World Wildlife Fund Netherlands
Mrs. Aritta Suwarno, Post doc researcher – Wageningen University
Plans of the EU to ban the use of palm oil for biofuels starting in 2030, pose a heavy threat to Indonesia's future economy. As a world leader in the production of palm oil, accountable for approximately 60% of total global palm oil production, the Indonesian palm oil industry provides jobs to millions of people. For years the Palm oil industry is under fire. Opinion leaders, climate ngo's, politicians and goverments accuse the palm oil industry of deforestation, fueling climate crisis, habitat degradation, animal cruelty and human rights issues.
In his keynote speech Mr. Siregar explained Indonesia's fierce response to the serious accusations of the EU. The Indonesian government acted in an early stage by putting a moratorium on forest clearance resulting in a 70% reduction acknowledged by the World Resource Institute in 2017. The government further stimulated efforts at achieving sustainable palm oil and the Indonesian private sector adopted several voluntary schemes. In spite of these efforts the EU Commission adopted the Delegated Act (DA) under the Renewable Energy Directive (RED) II that will ban the use of palm oil in the EU biofuel sector no later than 2030. To Siregar the EU establishes criteria that deliberately discriminate against palm oil in favor of in Europe produced rapeseed. Loss of biodiversity in Indonesia is assessed in the period 1989-2003 and projected for 2008 and 2015 ignoring the dramatic decline in forest clearance witnessed in Indonesia in 2017 as a result of the moratorium applied by the Indonesian government. The Delegated Act also ignores the fact that palm oil contributes less to loss of biodiversity than other vegetable oils on a per unit/area basis as 6% of global land devoted to palm oil produces 38% of vegetable oil output. As strategy against this European policy Siregar advices Indonesia to continue to address environmental concerns by maintaining the moratorium, achieving sustainability, and continue to improve the productivity of palm oil especially by the smallholders. These efforts need be channeled through the United Nations Sustainable Development Goals (SDGs) by 2030. European trade too includes products that contribute to high levels of CO2 emissions such as dairy, meat products and wines. Indonesia, along with other palm oil producing countries, should consider imposing limitations on the imports of rapeseed and those products from Europe. Another course of action for the palm oil producing countries against the EU could be recourse to the WTO.  Mr. Siregar expressed his regret on the Netherlands position not to oppose the DA of the EU and his hope that the Netherlands as one of the greatest traders of agricultural products worldwide would choose a multilateral approach.
Mr. ter Kulve, In his speech, said he was grateful for the long standing good relationship of Unilever with Indonesia. Products of this British-Dutch transnational consumer goods company are available in around 190 countries, including food and personal care products. Palm oil is one of Unilever's priority raw materials, because palm oil is the most productive and land-use efficient vegetable oil in the world ( IUCN 2018). Unfortunately, clearing land for palm oil plantations has led to widespread loss of rainforests in Indonesia, Malaysia and beyond. Scientists say that halting deforestation is 'just as urgent' as reducing emissions. Protecting and restoring forests would reduce 18% of emissions by 2030 and help to avoid global temperature rise beyond 1.5C. Deforestation is a huge climate issue.
This makes that Unilever is especially focused on breaking the link between palm oil production and deforestation. In 2004, Unilever helped to pioneer the Roundtable on Sustainable palm Oil (RSPO) with WWF. In 2009, together with the other 400 members of the Consumer Goods Forum (CGF), Unilever made a commitment to zero deforestation by 2020 with four commodities: palm oil, soy, paper and pulp, and beef. In 2016 the target for 100% physically certified palm oil was brought forward from 2020 to 2019.
Unilever's palm oil policy incorporates the following principles: No deforestation; No new development on peat; No exploitation of peoples and communities; Transparency and traceability to drive market transformation; Jurisdictional and landscape approaches; Smallholder farmer integration.
Unilever drives the system change by encouraging the whole palm oil industry, including growers, traders, manufacturers and retailers to set and meet high standards, extending beyond current certification. This transformation goes first, by transparency. It was game changing to work with a universal Mill list and a concession mapping platform. Second, by enhancing human rights in the industry through a public grievance process. Also, by getting closer to smallholder farmers and shortening Unilever's supply chain. Fourth but not least, by protecting and restoring landscapes Unilever demonstrates forest protection as a natural climate solution.
To Unilever the system change can't be  effective without working together with governments and other partners: ensuring that tackling deforestation gets the political attention and financial resources it needs.
Mrs Hartefeld, Chief Conservation Officer of World Wildlife Fund Netherlands gave an overview of projects in Indonesia by WWF in collaboration with partner organizations (government, the private sector, national and international ngo's, local farmers) that monitor sustainable production processes aiming at the production of certified palm oil. Good practices in restoring biodiversity, reforestation and enhancing human rights show that transition to a circular economy is possible, but will take time.  She is hopeful. Learning by doing and collaboration between stakeholders and partner organizations help finding effective new strategies.
Mrs. Suwarno, Post doc researcher at Van hall Larenstein University, is doing action research on the daily life of palm oil smallholder farmers, who  strife to produce certified palm oil. She stressed the importance of involving students (both from VHL and Indonesian universities) and sharing their results with a wider public, in particular with the younger generation.
In his concluding remarks Wim van Eekelen made the point that  not all the deforested areas were replanted with palm oil trees, which enhanced the importance of President Widodo's recent decision to stop licensing of tree-cutting. The EU should recognize the importance of palm oil exports for Indonesia and Malaysia, but also ask these countries to better control the tree-cutting. Secondly, it seemed a waste of valuable food, medical and cosmetic ingredients if palm oil were used as biofuel.
By Monica Bouman
Credits picture: www.jorismaasvisuals.com