24 Mar 2016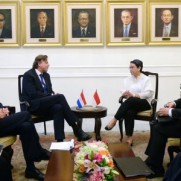 Foreign Minister Retno Marsudi held a bilateral meeting with her Dutch counterpart, Albert Koenders, in Jakarta on Thursday 24 March 2016. Minister Koenders arrived at Pancasila Building in the Indonesian Ministry of Foreign Affairs at 08:55 Western Indonesian Time. The two foreign ministers have met before in the sidelines of Bali Regional Ministerial Conference in Bali, 22-23 March 2016.
During the one hour meeting, both foreign ministers discussed trade and investment relations and cooperation between Indonesia and the Netherlands. Both ministers also discussed cooperation in infrastructure development.
Both sides agreed to boost further interaction between businesses of both countries. Indonesia expects more investment from the Netherlands in various sectors. "Indonesia invites more Dutch investors to Indonesia, especially in the maritime cluster," Minister Retno Marsudi explained.
Bilateral cooperation in the education sector will also be strengthened. "The Netherlands is one of the most important trading partner for Indonesia in Europe as well as being an important traditional market for Indonesia," Minister Retno Marsudi added.
Bilateral trade between Indonesia and the Netherlands reached USD 4.2 billion in 2015 with USD 2.6 billion surplus for Indonesia. In 2014, bilateral trade reached USD 4.89 billlion with USD 3.07 billion surplus for Indonesia. Dutch investment realization in Indonesia in 2015 reached USD 1.31 billion divided into 421 projects, while in 2014 it reached USD 1.73 billion in 181 projects. 166,824 Dutch tourists visited Indonesia in 2015.
The number of Indonesian nationals living in the Netherlands was 14,554 persons in 2014. Among them, about 1,300 Indonesian students are currently studying in Dutch universities/academies.
Besides economic relations and maritime cooperation, both ministers discussed a number of other issues such as history between the two countries and domestic as well as international laws. Minister Koenders conveyed the Netherlands' position opposing capital punishment, but he was glad that he could discuss the matter relating to capital punishment in Indonesia. (Infomed/AVS)