22 Mar 2012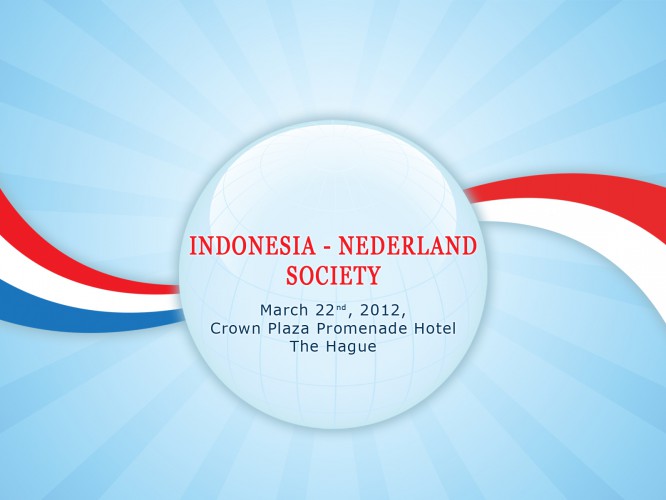 'One condition is crucial: getting to know each other better and working together on those fields where both countries could strengthen each other.'
On March 22, at the Promenade Hotel in The Hague, te Indonesia Nederland Society was officially launched by the organizing committee, chaired by Dr. W.F. van Eekelen (former Minister of Defense).
The event was co-organized by the Indonesian Embassy. The launching of the INS was also an occasion to introduce the new Indonesian Ambassador, H.E. Mrs. Retno Marsudi, to the more than hundred representatives of Dutch organizations.
Twelve prominent Dutch citizens commented on the launching of the Indonesia Nederland Society, under the title 'Challenges and opportunities'.
The speakers contributions, the warm response of the audience and the fine meal offered by the Indonesian Embassy, made the launching of the INS an expression of the friendship between the two countries that the INS aims to further.
Dr. W.F. van Eekelen, chairman of the organizing INS committee, in his opening statement first payed tribute to the late Ambassador Habibie who had passed away two few weeks earlier.  'We remember his warm personality, his understanding of the peculiarities of Dutch society, and his generosity in inviting veterans from the Netherlands to the flag raising ceremonies at his residence on 17 August.'
Then Dr. Van Eekelen introduced the new Indonesian Ambassador to the Netherlands. H.E. Mrs. Retno L.P. Marsudi, who in Jakarta had occupied one of the highest positions at the Ministry of Foreign Affairs. In her address Ambassadeur Marsudi called the relationship between Indonesia and the Netherlands a 2.0 special relationship, from which both countries each could benefit. Indonesia was ready to start this new model.
Dr. Alexander Rinnooy Kan, chairman of the Social and Economic Council, in his introductory remarks gave a substantial impetus on behalf of the 'BV Nederland'. After him eleven prominent Dutchmen and one Dutchlady, from different angles of society – science, politics, business, education – gave their view on the potentially promising relationship between Indonesia and the Netherlands. One condition is crucial: getting to know each other better and working together on those fields where both countries could strengthen each other. Short interventions came from: mr. Frits Korthals Altes (Minister van Staat), dr. Bernard Bot (Former Minister of Foreign Affairs), mr. Jesse Kuijper (The Borneo Initiative), prof. mr. Laurens Jan Brinkhorst (Former Minister of Agriculture and former Minister of Economic Affairs), mr. Hans van Baalen (Member of the European Parliament), mrs. drs. Yvonne van Genugten (director of the Indisch Herinneringscentrum Bronbeek), mr. Rennie R. Roos (Student in Leiden and Yogyakarta), mr. J.H.N. van Ameijden (Damen Shipyards), prof. dr. D.E. Grobbee (International Health Sciences, Universiteit Utrecht), mr. Jan Kees Wiebenga (Member of the Raad van State) and dr. Nikolaos van Dam (Former Ambassador in Jakarta).
In his comments dr. Van Eekelen stressed the importance of relationships on equal footing and with mutual respect. He expressed his profound appreciation for Indonesia's high accomplishments since its independence: the country preserved its unity, grew in economic prosperity and had token difficult issues, one of which was the positive developments in Aceh after the Tsunami. It was a pity that 'Our media pay too little attention to the positive aspects of this enormous archipelago.' He concluded by saying:  'We believe that it is high time to build upon the positive aspects of our common heritage and the real friendship existing between so many people from Indonesia and the Netherlands. Because we feel that in the Netherlands many people are lacking in their knowledge and understanding of Indonesia as it is today: a rising economic power, a moderate Islamic country, which puts great emphasis on education and human values.'
---