22 Mar 2012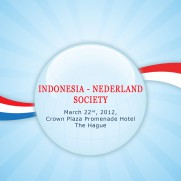 Welcome, Slamat datang, Welkom
Welcome to the inaugural session of the Indonesia Nederland Society. We are very happy that so many have accepted our invitation, coming from universities, the business world and from many organisations interested in closer relations between our two countries. We need your help in realising our objectives.
A special word of Welcome to the new ambassador of the Republic of Indonesia, Mrs Retno Marsudi. Madam, we look forward to close cooperation with you and your Embassy, just as we have enjoyed the close cooperation with Ministers Umar Hadi and Bonifatius Herindra and their excellent staff in preparing for this launching event today.
Before I continue, I want to pay tribute to former Ambassador Habibie who passed away only a few weeks ago. We remember his warm personality, his understanding of the peculiarities of Dutch society, and his generosity in inviting veterans from the Netherlands to the flag raising ceremonies at his residence on 17 August.
Ladies and gentlemen, please rise for a moment of silence to commemorate ambassador Habibie
…..
Thank you. We'll remember him. We'll also remember his saying "Geen ouwe koeien uit de sloot halen", which translates less well into English as 'letting sleeping dogs lie'. Well, in launching our society we'll let them sleep and focus on the future.
Now, I should like to introduce our organising committee. I ask them to stand up: Joty ter Kulve, who gave us the inspiration from the Linggajati conference held in 1946 in the house of her parents; Silfraire Delhaye, Monica Bouman, Frank Marcus and Ate Oostra.
We believe that it is high time to build upon the positive aspects of our common heritage and the real friendship existing between so many people from Indonesia and the Netherlands. Because we feel that in the Netherlands many people are lacking in their knowledge and understanding of Indonesia as it is today: a rising economic power, a moderate Islamic country, which puts great emphasis on education and human values.
That is why today we combine our launch and our welcome to the new ambassador with a reflection from different angles on a promising future.
What do we see as our challenges and opportunities? And we'll do that staccato: three minutes each, as the European parliament does. Of course that does not apply to the two main speakers. We are particularly grateful to Mr Alexander Rinnooy Kan for accepting to kick off our reflection, because as Chairman of the Social and Economic Council nobody is better placed to speak on behalf of the 'BV Nederland' than he. After him Ambassador Marsudi will deliver her address, followed by remarks by Mr. Frits Korthals Altes (Minister van Staat), dr. Bernard Bot (Former Minister of Foreign Affairs), mr. Jesse M. Kuijper (The Borneo Initiative), prof. mr. Laurens Jan Brinkhorst (Former-Minister), mr. Hans van Baalen (Member of the European Parliament), mrs. drs. Yvonne van Genugten (director of The Indisch Herinneringscentrum Bronbeek), mr. Rennie R. Roos (Student in Leiden and Yogyakarta), mr. J.H.N. van Ameijden (Damen Shipyards), prof. dr. D.E. Grobbee, (International Health Sciences, Universiteit Utrecht), mr. Jan Kees Wiebenga (Member of the Raad van State), dr. Koos van Dam (Former-Ambassador in Jakarta).