25 Nov 2016
Speech | 23-11-2016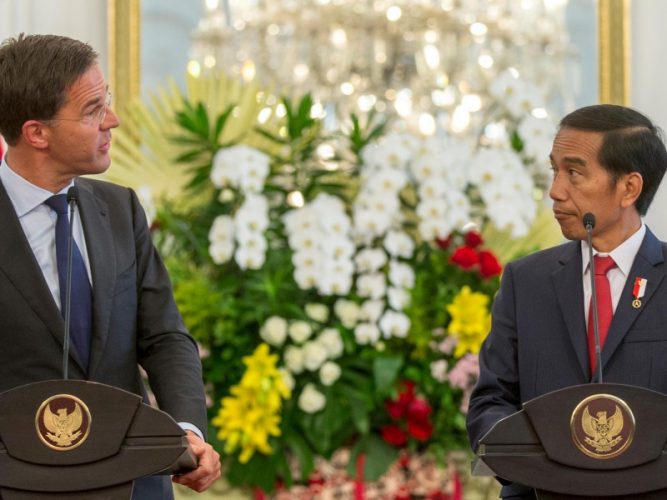 Ladies and gentlemen,
Terima kasih, thank you for coming. It's great to see so many people here. What a shame this is the final evening of my visit to your beautiful country. A visit that I will remember fondly, for many reasons. Today I became the first ever Dutch Prime Minister to address Indonesia's parliament. To stand at the heart of Indonesian democracy was a special moment for me. As a Prime Minister, but also as a son. Because, as you may know, my father had close ties with your country, so my family history is closely bound up with Indonesia.
I told parliament that Indonesia and the Netherlands share a great deal, but above all the future. I've seen many examples of this over the past few days. Like in the Kota Lama of Semarang, where the buildings in the old centre recall a shared past. At the same time, people from our two countries are working together on our future, by tackling flood risks and restoring cultural heritage.
It shows what we can accomplish when we join forces.
Over one hundred businesses have joined us on this trip, and they feel the same way. They come from a range of sectors: water and maritime, climate and waste management, life sciences and health, and horticulture. These are the sectors that matter most when it comes to solving the big challenges facing our societies. In Indonesia, in the Netherlands and around the world. How can we protect ourselves against flooding? How can we stop global warming? How can we feed the world's growing population?
These are big questions that don't have simple answers. But we can start by pooling our knowledge, expertise and creativity. After all, 2 heads are better than 1. So it's vital that Dutch and Indonesian companies seek each other out.
During this visit, we have worked on our 'relationship 2.0', to use the words of Foreign Minister Marsudi. In fact, I think we can now say that we have moved on to version 2.1! We have taken another step in deepening the ties between our countries. Political contacts play an important role in this process. But of course true cooperation, which helps our countries make progress, is largely something that takes place between our companies.
Trade relations already are strong. Our bilateral trade in goods with Indonesia exceeded 3 billion euros in 2015. The Netherlands is one of the main foreign investors in Indonesia. Meanwhile the Netherlands, with the port of Rotterdam and Schiphol airport, is also Indonesia's gateway to Europe.
We've signed several contracts over the past few days. That's important and we're delighted with these deals. But it all starts with people, it starts with you. It starts with people meeting people. And that's what this evening is all about.
Let me leave you with a final thought. Pramoedya Ananta Toer once wrote, 'Life can give everything to whoever tries to understand and is willing to receive new knowledge.' During my visit I have seen, yet again, how open our 2 countries are to cooperation, mutual understanding and knowledge-sharing. That makes everything possible.
Thank you and goodbye, sampai bertemu lagi.