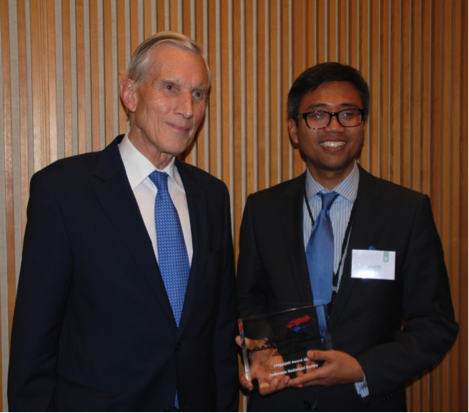 10 Dec 2013
December 10, 2013
Distinguished guests, Ladies and gentlemen,
Ambassador Retno Marsudi conveys her felicitations to you for the successful undertaking of this seminar as well as her warm congratulations to the recipients of the Linggadjati Award 2013, Dr. Bot and Dr. Wirajuda. She expresses her deep regrets for being unable to come personally to this important gathering. Nevertheless, she extends her warm greetings to each and every one of you.
On her representation and on a personal note, I wish to convey my heartfelt appreciation for the warm invitation to the Autumn Seminar extended by this distinguished organization – the Indonesia Netherlands Society (INS). I also thank the Ministry of Foreign Affairs in accommodating this seminar – in its best conference hall – as a way of promoting closer ties amongst our two peoples.
I also thank Mr. Bernard Wientjes, Mr. Ate Oostra, Mr. Age Jonker, Dr. Tik Tan for providing a thorough overview, insight and frank assessment on the recent Dutch Trade Mission to Indonesia. The presentations shows that the visit is not a one-off mission, but that it will be followed up and that the engagement will be sustained. The visit is being seen as a strong signal to Indonesia of the Dutch engagement and strong commitment of which this will be reciprocated.
During the dinner that President Susilo Bambang Yudyohono hosted in honour of Prime Minister Mark Rutte, he acknowledged the role of the INS in bridging closer ties between Indonesia and the Netherlands. There is no doubt on us at the Embassy that the INS will play its important and significant role in the future relations between Indonesia and Netherlands.
Speaking about friendship and partnership, like all of you, I am also honoured to be present of today's conferment of the Linggajati Award 2013 to two eminent figures who contributed in shaping our modern history: the former Foreign Ministers Dr. Bernard Bot and Dr. Hassan Wirajuda.
In the course of our historical relations, the successful visit of the Prime Minister to Indonesia last month opens yet a new chapter in our bilateral relations.
As a testimony of our transformed relations, President Susilo Bambang Yudhoyono and Prime Minister Mark Rutte launched the Joint Declaration on a Comprehensive Partnership Agreement. The Comprehensive Partnership Agreement is the basis for intensifying bilateral cooperation on a future oriented relationship on all fields: from political, economic, trade, judicial to the socio-cultural sphere. Through this, it sealed our relations by becoming true partners: by history and by destiny.
I believe the trade mission was beneficial for both Indonesia and the Netherlands. On the one hand, it could be good for the Netherlands, its economy and its companies. On the other, it is also good for Indonesia as it provides solutions to the problems we face. I take for example the Garuda project, which was shown on the screen to protect Jakarta from land subsidence and flood, to which a whole new city centre of Jakarta could emerge. Thus, as the old city of Jakarta (kota tua) was created by the Dutch, I can start imagining that the development of that the future new city could also have a Dutch contribution.
While you are cognizant of being quite late in approaching Indonesia, it seems there is the intention to catch up with other countries who have engaged us before you. The strong bond between our peoples due to our shared past shouldn't be underestimated, for instance the various words in Bahasa Indonesia that could be traced to the Dutch language. There is certainly a sense of strong connection binding us that could serve as a powerful asset.
Ladies and gentlemen, Dr. Bernard Bot and Dr. Hassan Wirajuda have acted in a way we most admire. Both gentlemen, in their time, not only share a vision in the exercise of their profession but also a robust friendship.
They have worked closely as Foreign Ministers from 2003 to 2007. Since the visit of Dr. Bernard Bot to Indonesia in August 2005, both Foreign Ministers propelled the relations between our two countries into a higher plane of cooperation.
Thus, during the awarding of Bintang Mahaputra Utama – one of Indonesia's highest decorative national honour – to Dr. Bernard Bot, Dr. Hassan Wirajuda conveyed in his speech that what Dr. Bernard Bot did, has helped bring about the completion of a long healing process. As a result, both Indonesia and the Netherlands veterans honour each other by both joining the Independence Day ceremonies.
Besides that, both men are patrons for democracy. Dr. Hassan Wirajuda authored the Bali Democracy Forum. Likewise, he spearheads its implementing agency known as the Institute for Peace and Democracy (IPD). At the same time, Dr. Bernard Bot heads the Supervisory Board of the Netherlands Institute for Multiparty Democracy (NIMD). Both institutes are platforms for dialogue in the promotion of democracy and good governance – principles that we both share strongly as a society.
As you may know, these gentlemen are also the proponents behind the Comprehensive Partnership. They have architected and laid down a strong foundation of the Comprehensive Partnership that is now officially launched.
It is quite fitting for these great men to be awarded the Linggajati Award for their actions. The word Linggajati connotes different meaning for different people but in the end and in time, Linggajati itself has transformed its meaning equivalent to that of diplomacy and sustained peaceful solutions. That is why the conferment of this year's Linggajati is somewhat special because the actions of these great men represent what Linggajati is all about – diplomacy and peaceful solutions are the best avenues in facing even the most difficult and greatest challenge.
Ladies and gentlemen, and so, while we gather here today to honour these great gentlemen, we also celebrate and move forward to a greater partnership of Indonesia and the Netherlands.
I have high hopes that today's partnership will serve us in good stead and with it we can build on our unique complementarities and make them serve the welfare of our peoples.
This is the kind of partnership that Ambassador Retno Marsudi promotes. She called it version 2.0, a special relationship with tangible benefits for both sides.
Thank you.