12 Oct 2023
During the  2023 WINNER Conference the finals of the first ever Indonesia Netherlands Thesis Prize took place. We congratulate all finalists and especially the winner Andi Alfian.
Thesis Prize
The Indonesia Nederland Society (INS), in partnership with PPI Belanda, Nuffic Southeast Asia and Garuda Indonesia, has taken the initiative to award an annual thesis prize. Students or fresh graduates who had written a Bachelor's or Master's thesis at a Dutch or Indonesian university could participate in the contest. To make the theses of different universities, subjects and levels comparable, focus has been not on the thesis itself, but rather on a written summary and a video pitch that contestants needed to send in. 
Selection of finalists
The deadline for applications was on 31 July 2023 and on that day 40 candidates had sent in a complete application. A jury consisting of experts from Indonesia and the Netherlands  (Prof. Diana Suhardiman, Prof. Bambang Hari Wibisono, Dr. Isti Hidayati, Martin Drenth, and Indy Hardono) had a month to go through all the applications and selected the following 5 finalists early September:
Andi Alfian

 (Universitas Gadjah Mada)
Thesis subject: Eco-relational citizenship: perspectives from Bara and Cindakko indigenous communities of Sulawesi, Indonesia
Sabrina Farah Salsabilla

 

(IHE Delft)
Thesis subject: Combination of hydrological and hydrodynamic modeling for optimizing nature-based solutions in a catchment
Laksmita Hestirani 

(Universitas Indonesia)
Thesis subject:  Maria Ullfah Santoso's Thoughts on Indonesian Women's Standing in Marriage and Politics (1938-41)
Steve Ariel Harutogu

 (Universitas Indonesia)
Thesis subject: Activity of the restitution of colonial collection and historical injustice by Germany, Netherlands, Belgium to Its former colony
Ana Viola Epping

 (Hanze University of Applied Sciences)
Thesis subject: Living in a vertical kampong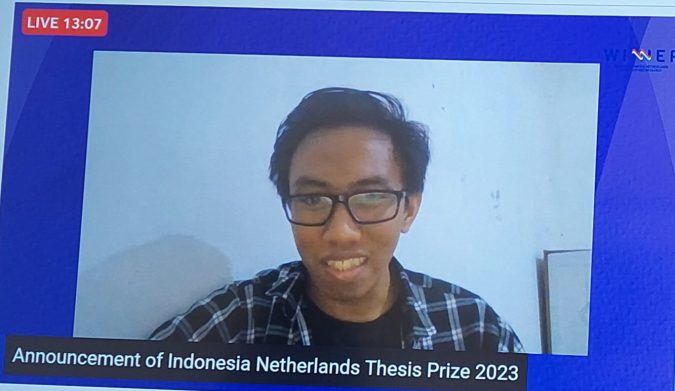 The final
During the final, the 5 finalists had to present their thesis in a pitch in front of an online audience. Their assignment was to do a pitch in a maximum of 3 minutes in which they would present their main research findings, with a focus on the relevance of the conference theme of regional impact and where possible for the relation Indonesia-the Netherlands. After careful consideration the jury had to make a very difficult decision and decided that Andi Alfian had performed best. Andi was really happy and thanked the audience for attending and the organisers for making it all possible. He will now go to the Netherlands with a ticket sponsored by Garuda Indonesia. During his trip he will be linked up to researchers in the Netherlands and given the opportunity to present his main findings.
The INS would like to thank PPI Belanda, Nuffic Southeast Asia and Garuda Indonesia, the jury members and all applicants for participating in this inaugural edition of the Indonesia Netherlands Thesis Prize. 
Supported by